Da-Lite Screen
Jump to navigation
Jump to search
The big screen in the real room can project signals from VGA, HDMI (and?) input.
First turn on the projector and lower the screen by pressing the "system on" button on the Crestron control box to the left of the screen.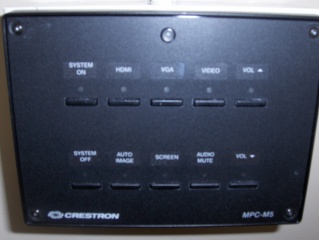 To connect your computer, find either the s-VGA or the HDMI cable at the south wall of the real room. These should be connected to the ports in the black Extron panel, and should not be removed. Make sure the cable you wish to use is firmly connected to the black panel's port.
Plug the other end of the cable into the appropriate port on your laptop or the computer's tower. Note that you have to use the hdmi to dvi adaptor to connect the hdmi cable to the real room's PC, as there is no spare VGA port. Then walk over and choose the appropriate option on the control box, e.g., HDMI if you want to use the HDMI cable. If you are using a windows system, you can use the windows shortcut for managing multiple screens, Windows Key + P, to choose whether to duplicate the images on your primary screen to the big screen, extend and separate the primary and big screens, or display only to the big screen.
playing sound
Playing sound to the speakers with the HDMI cable
The HDMI cable will carry sound as well as images- no other connections are needed. To play sounds to the speaker with a windows system, right click on the audio symbol in the system tray, and select Playback Devices. If the HDMI screen (might be called DZ6700-1) is not the default device (i.e., has a small checkmark next to it), right click on its icon and select Set as Default Device.

Playing sound to the speakers with the s-VGA cable
The VGA cable does not carry sound, and requires the accompanying audio jacks to be plugged in. Plug the audio jack accompanying the VGA cable by the black panel into the slot labelled "audio computer". Plug the audio jack on accompanying the VGA cable on the other end into the headphone jack on your laptop, or into the slot for the speakers on a PC.
troubleshooting
Sometimes the big screen flickers and/or turns white when you're trying to run a matlab psychtoolbox experiment on it. Make sure that the screen's refresh rate is set to 60Hz - it defaults to 59Hz when you first plug it in and start using it.